Favorite Color(s): Lime green, purple
Number:Well, first it was 4, then it was 6, and then I decided I liked both, so now my favorite number is 24.
Hobbies/Interests: Soccer, drawing, music, reading, soccer, Veggie Tales, drawing, friends, web pages, grafix design, friends... Err.. Did I miss something important like, oh, I dunno... Soccer?
Music/Music Groups/Artists: Ska--(Five Iron Frenzy, Supertones...), Jars of Clay, Seal, Smashmouth, Sixpence None the Richer, Dave Matthews Band, Third Eye Blind, GooGoo Dolls, Jewel, and uh... I dunno, do I like KoRn? Phil Collins!! Vonda Sheperd??? (How the hay do you spell that lady's name?)
Songs/Soundtracks: Slide/Iris-- GooGoo Dolls, Suckerpunch/Dandelions/Super Powers/Pants Rock Opera-- Five Iron Frenzy, Flood-- Jars of Clay, Kiss from a Rose-- Seal, Mafia, Allstar-- Smashmouth, Kiss Me-- Sixpence N.t.R., Crush-- Dave Matthews Band, Hands/Down So Long/Painters/Foolish Games/etc.-- Jewel. ~ Tarzan Soundtrack, Dawson's Creek Soundtrack, City of Angels Soundtrack.
Movies:Tarzan, MiB, Independence Day, Midsummer Night's Dream, My Best Friend's Wedding, Step Mom, Broken Arrow, Mulan, and of course, the StarWars Trilogy.
Just Stuff: Taco Bell/Dell Taco, Furcadia, Yerf, Elfwood, good web pages, ICQ, Revamps, Redwall, cats, rats, rabbits, dragons, other fantasy creatures, plushies, Pokemon, Ty Beanies (They're so kyoot!), Goofy, Eeyore, snow, cold weather, Subaru brand cars, scanners, push-pins, socks... Uh.. I'm gettin' a little far... Whoops.
Anything Else
Some stuff I hate: Sushi, Seafood, Racism, Discrimination, Prejudice, put-downs, mean people, homework, yiffy furry art, hentai, pornography, spam, Dad's lectures, losing... Uhmm... And various things.
Pets~
Cats: Nala, Buttercup, Sandingomm (Sandy), Stormy, Bandit.~~Rats: Oliver(Olly), Tikki.~~Guinea Pig: Bitsy Boodle (she's not really bitsy tho...)~~Dogs: McKenzie, Molly, Kiki.

---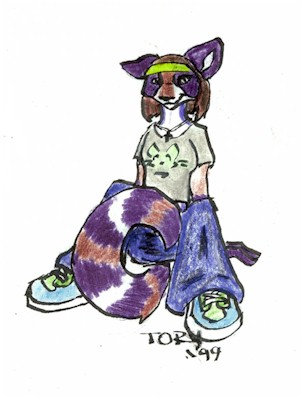 And this is my Furry-self, which is who I am if you ever talk to me over AIM or ICQ. I thought I'd make up a me-character because although Terra is one of my main RP chars, she's not really me. Here's some stuff about Tory tha fur.

Name: Tory

Species: Panda/raccoon/feline cross.

Hair color: Dark brown w/ natural red-gold highlights.

Fur Color: White with red-brown and purple markings.

Faves: Veggie Tales, Ska, and Soccer.

Description: Stands 5'5 with shoulder length hair, usually wearing a green head band, overly baggy pants, and tank-tops, hooded sweatshirts, or tees. Likes bamboo, tacos, and spicy food. Forearms and feet to mid-calf are purple and has purple panda-spots over her eyes. Long, fluffy, striped tail. Seen scarcely on FluffMUCK as alias Gilly.



---
See? I toldja it was boring. Oh well, too bad.

Updates|Art for Others|My Character Art|Miscellaneous|Elfwood Art|Pics for Me!|Requests Etc.|About Me|Awards|Links|E-mail