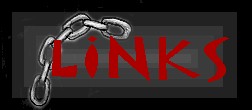 Aww, leaving already? Hmph. Well, this is my collection of links. If you want your page on my list of links, just E-mail me. 'k'k? But If You're on my link list, I should be on yours, eh? Now, choose the door through which you will leave thine's asylum...
Arty Places:
*sigh* That centre for the best of the best furry artists.
A huge collection of fantasy/sci-fi/horror artists and writers! Go check it out! I'm housed in Lothlorien Gallery 88.
FurNation! A cool place for furry artists and home to some very talented peeps!
Click here

D~Mentia's World "A graphical wonderland filled with free graphics, free themes, dragons, and so much more" Too True! She's also a great artist.
Friends Pages (Art and not):
Ran by my friend Erin Lewis, this likkle spot on the 'net changes frequently...Currently it's home to a little comic.
M' buddy Erin Middendorf's page! Packed with all kindsa stuff-- Art, VeggieTales, EARTHWORM JIM! And let's not forget, cyber home to the Great Erin herself.

This es Karma's page! She's one of my Yerf pals, go lookit her site, it's fair new, but it's spiffy! Button made by myself. :)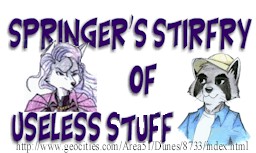 M'pally Silas's homepage of stuff! (Yes, the very same Silas who created Revamps). He's got some spiffy 'Top Ten' stuff up there, go chekkit out, kay? Banner by moi.
That Kelly girl again ;). Magnificent artist and musician with lots ta see at her page.
This is a link to Tracy Butler's new homepage-in progress, Ainessa, but there's not much there except the front page, so go to her present webpage--Sly's Foxy/Furry Gallery! Tracy Butler is an Excellent furry artist, probably the best I know, so don't pass up a visit to her site, alright? You can also find more of her art on Yerf.
Catra's page where you can find anime and furry themes, with lots of art and comics! Go see et for your self, it's really spiffin'!
°¤ ¥ª®zz ¤°
PacRat's place, a truly unique little spot with plenty of stuff ta do. A really good page. Go look~!
WyndSong's Place! Mah friend Wyndsong's humble abode with lotsa stuff concerning Wolves, Redwall, and other things.
'Why live in the world when you can live in your head.?'
Redwallish Pages:
The Official Redwall Site! What it sez.
One of the biggest Redwall Clubs out there, it's currently run by Jarron Woodsorrel 'cuz Grath retired.
Blackrock AbbeyAnother Redwall club ran by Treyla.
The Redwall Directory The site to go when you want Redwall pages! Run by Ublaz, late leader of Sampetra:INSU.
Terrouge Magazine! Err, well they're not done with the changes so it's not really available. Otherwise it was an awesome Redwall E-zine.
Maple Hollow! Ran by Jasmine who I really owe a picture! I'm so sorry!
DAB (Dibbuns Against Bedtime) Headquarters A spiffy site just for dibbuns! I'm Ransy here!

Anyfin' Else:
-- I'm a member. You join too. Stop School Violence!
Revamps Comic Book

Updates|Art for Others|My Character Art|Miscellaneous|Elfwood Art|Pics for Me!|Requests Etc.|About Me|Awards|Links|E-mail